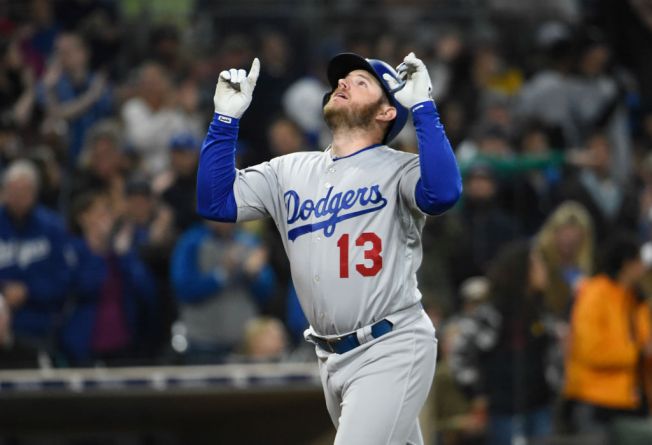 The Dodgers might have found yet another diamond in the rough and by now it's starting to become routine. From
Justin Turner
and
Chris Taylor
turning from bench utility players into NLCS MVPs in 2017 was truly an unpredictable feat years ago. Now in 2018, the Dodgers have a player doing something that fits the pattern to a T and it might not just be a fluke, at least for this year.
Max Muncy
was released by the Oakland Athletics at the beginning of the 2017 season and not a month later picked up as a free agent by the Dodgers. His 2017 in AAA OKC was terrific putting up a .905 OPS in 379 plate appearances for a wRC+ of 139. Of course many players will put up great numbers in the minors and fail to break through in the majors but Muncy might have finally figured things out.
For starters, Muncy knows how to take a walk. The Moneyball centric A's are of course the first team that comes to mind when accumulating players that have plate discipline and Max Muncy has embodied that at almost every minor league level and also in his brief stints in the majors. His only stretch with a single digit BB% was in 2015 with the A's in 112 plate appearances. To start 2018, Muncy is sporting an excellent 13.5% walk rate which is 2nd on the Dodgers only behind Austin Barnes (who's season is another topic of discussion) and solidly above the league average in 2018 of 8.7. Now first to come to mind immediately with break out performances is sample size, but with 126 plate appearances so far in 2018 Muncy is above the 120 mark
Fangraphs has listed as a stabilization rate for BB%
meaning Muncy's 2018 in terms of his patience isn't an anomaly. That coupled with his past history of being a patient hitter, this part of Muncy's game seems primed to stay for as long as he does.
Next thing many look to when examining whether an offensive performance can sustain is usually BABIP. Many continue to look at
Matt Kemp's
BABIP in 2018 as an example of his impending offensive slide but 2018 Matt Kemp laughs in the face of doubt and continues to chug along (sorry I wrote about you not staying with the team long term, please stay forever). So what's Max Muncy's BABIP? A meager .254, just .011 points higher than his current average of .243. Muncy has never been a high average guy throughout his career in the minors and majors so this isn't much of a surprise. What IS surprising is what Muncy is doing with his power. His .308 ISO is far and away the highest on the team ahead of Kemp's .228 mark. For reference to those not familiar with ISO, it is
"a measure of a hitter's raw power and tells you how often a player hits for extra bases. We know that not all hits are created equally and ISO provides you with a quick tool for determining the degree to which a given hitter provides extra base hits as opposed to singles."
This is why Muncy, while not having the highest slugging percentage, is still crushing the ball for extra bases more often than not. When he gets a hit, it's usually for more than just one base. Among all major leaguers this year, his ISO ranks 7th behind
Jose Ramirez
and ahead of
Manny Machado
. Now with ISO the stabilization rate is 160 ABs which Muncy has not yet cleared, he's 53 ABs shy of hitting that mark. However other rates show he might get to that mark and still be crushing the ball for homers and extra bases.
In terms of fly ball and ground ball rate, Muncy is at 79 balls put in play which ground ball rate and fly ball rates tends to stabilize at 80 balls in play. Currently Muncy's been hitting ground balls at a below average level and fly balls at an above average level (something something fly ball launch angle revolution). We can expect this trend to continue for the most part in 2018. Muncy's HR/FB ratio is very high at 25% but his 35 fly balls are just 15 shy of when we can expect it to stabilize. Even if Muncy flies out 15 more times without getting another homer, he'd still have an 18% HR/FB ratio,
6% higher than league average
. Muncy is also very selective in the pitches he swings and takes. His
20.7% O-Swing%
(pitches swung out outside of the strike zone) is 9 points less than league average, meaning he doesn't chase as much. His Z-Swing% (pitches swung at inside the strike zone) is about 6 points less than the league average of 67% meaning he isn't swinging as much at strikes coming at him. He's waiting for his pitch and right now he's seeing it and hitting it. Whether he continues to get those pitches and take advantage of them will remain to be seen but it's hard not to like the results so far.
So with all this considered, Max Muncy's surprising breakout start to the season might not fizzle out completely. Muncy has shown great improvements in his start to the 2018 season and patience at the plate is important for sustained success. Max Muncy is basically doing what everybody thought
Cody Bellinger
would be doing in 2018: taking walks and slugging homers. With Cody Bellinger struggling at the plate immensely here in 2018, the Dodgers have found yet another piece in the depth puzzle to not skip a beat. Munch on, Max.